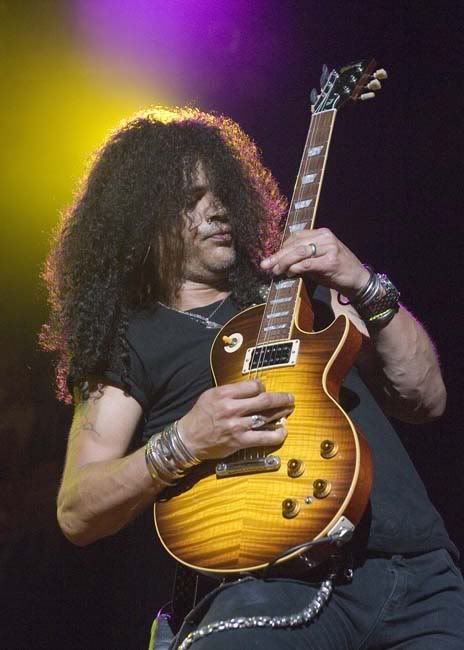 After his departure from Guns N' Roses, Slash focused on his side-project, The Snakepit, playing a few tour dates before disbanding the group in 1998. Over the next decade, Slash would become an in-demand session guitarist, recording music with the likes of Alice Cooper, Sammy Hagar, Insane Clown Posse, Ronnie Wood, Bad Company, Cheap Trick, Ray Charles, Stevie Wonder, and Rod Stewart.
In 2001, he chose to regroup Slash's Snakepit to release his second solo effort, the aptly titled Ain't Life Grand. The album managed to do well on the charts, reaching platinum status. To promote it further, Slash embarked on an extensive world tour with AC/DC in the summer of 2000.
In 1990, Slash collaborated with Michael Jackson on his comeback album, Dangerous. He performed guitar on two hit singles, "Black Or White"(song intro) and "Give In to Me". He later appeared in the "Give In To Me" video with Jackson and performed on special occasions during the massive Dangerous World Tour. In 1995, he appeared on stage with Jackson for the MTV Music Video Awards. Slash also played guitar in "D.S.", a controversial song from the 1995 HIStory album. In 2001, Slash once again collaborated with Jackson, on the Invincible track "Privacy". Also in 2001, he joined Jackson on stage at the Michael Jackson: 30th Anniversary Special performing guitar for "Black Or White" and "Beat It".
In 1995, Quentin Tarantino asked Slash to contribute music to his famed adaptation of Jackie Brown. Several Snakepit compositions can be heard throughout the film. In 1996, Slash collaborated with Marta Sanchez to record the flamenco inspired "Obsession-Confession" for the Curdled soundtrack. The song was received well by Smooth Jazz radio stations. Later that year, Slash also played live with Alice Cooper at Sammy Hagar's club Cabo Wabo in Cabo San Lucas, Mexico. The show was recorded and released the following year as A Fistful of Alice.
In 1997, Slash (alongside the late Ol' Dirty Bastard and hit alternative rock band Fishbone) appeared on BLACKstreet's rock remix version of their hit single "Fix". In 2003, he participated in the Yardbirds' comeback record Birdland, released on the Favored Nations label. He played lead guitar in the track "Over, Under, Sideways, Down." In early 2003, Slash also made an appearance at a rally to protest the coming War in Iraq called "Peace on the Beach." Specifically, Slash performed the song "Imagine" by John Lennon. Ed Kowalczyk provided vocals during this performance.
In 2002, he reunited with Duff McKagan and Matt Sorum for a benefit/tribute concert for Randy Castillo. Realizing they still had the chemistry of their days in Guns N' Roses, they decided to form a new band together. The band that featured Slash, McKagan, and Sorum also featured former Buckcherry members Keith Nelson and Josh Todd. Later Duff put out a statement that Josh and Keith didn't quite fit with the band, and they added Dave Kushner as rhythm guitar and, after a long search, Stone Temple Pilots singer Scott Weiland. In 2006, Slash performed a guest spot on keyboardist Derek Sherinian's solo album Blood of the Snake covering the 1970 Mungo Jerry hit single "In the Summertime", also featuring Billy Idol on vocals. A video was also made featuring Slash, Billy, and Derek for this song.
source by :
wiki