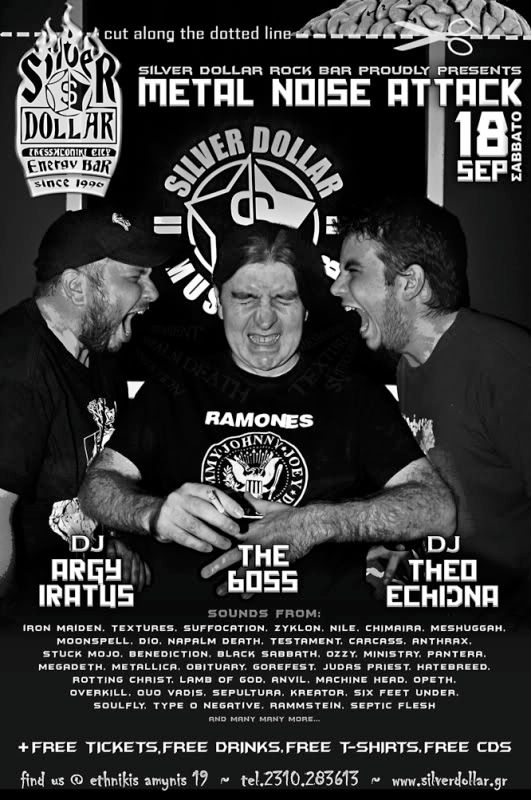 Party invitation only in Greeklish
enarksi: 18 Σεπτεμβρίου στις 11:00 μ.μ.
liksi: 19 Σεπτεμβρίου στις 7:00 π.μ.
Τοποθεσία SILVER DOLLAR ROCK BAR ( ETHNIKIS AMYNIS 19 - THESSALONIKI)
Περισσότερες πληροφορίες H apokalyptikh photo dixnei ksekathara ton
tropo me ton opoio pisame
ton idiokthth na dexthei ta athoa mas ethmata....
kai me ton tropo ayto epitelous ksanaxtypame sto SILVER DOLLAR Rock
Bar efnidiazontas tous thamones tou istorikou pleon Rock xwrou ths
polhs kai
dhmiourgontas tis katalhles synthikes gia ena monadiko METAL PARTY
kalyptontas olo to fasma ths mousikhs pou agapame kai agapate!
Meta tis 11 to vrady ekeinou tou evlogimenou savvatou de tha thesoume
oria sth mousikh kai stis epithimies sas kai sigoura den exoume skopo
na fygoume exontas soas tas frenas!
Skopos mas einai na apolafsoume afthono poto kai afthonh mousikh mexri prwias!!!
Tha symplhrosoume to keno me dora pou kratame eidika gia olous esas
kai exoun symantikh synaisthimatikh aksia gia emas!
Sas perimenoume gnostous kai agnostous,filous kai exthrous,kontous,psilous
monofthalmous,morfonies kai morfonious kai kathe loghs endiaferontes
anthropous me ena koino sthxeio na mas enonei.....
....THN METAL MOUSIKH ALANIA MOU!
Kalh mas diaskedash!!!!
Argy & Theo
more info about the event here