Rhino Records will be releasing a four CD box set, "The Heavy Metal Box" including 70 songs released between 1968 and 1991. The collection will include two Metallica songs, "Whiplash," and "One," along with music from Iron Maiden, Deep Purple, Black Sabbath, Pantera, Alice Cooper, Motorhead, Kiss and many others. Released in a limited edition deluxe package resembling an amplifier, the box literally goes to 11 with a turn-able Marshall knob. This deluxe amp package will only be made for the first run....subsequent editions will be available in a slimmed-down package.

RHINO'S HEAVY METAL BOX LITERALLY GOES TO 11
The Heavy Metal Box Features 70 Songs Spotlighting the Genre's First Golden Age Between 1968 and 1991 Including Music From Iron Maiden, Deep Purple, Metallica, Judas Priest, Black Sabbath, Iron Butterfly, Pantera, Alice Cooper, Venom, Testament, Motorhead, Slayer, Rush, Megadeth, Kiss and More
Four-Disc Boxed Set, Packaged to Resemble an Amplifier With an Authentic Marshall Knob, Will Be Available October 2 From Rhino
LOS ANGELES - Heavy metal is not for the faint of heart. The songs don't want you to dance, shake, spin, or jump. They insist that you bang your head. Forget nuances or subtlety, heavy metal's main concern is kicking your ass. Rhino dives into the mosh pit with a four-disc collection of musical wickedness that packs more fire and brimstone than an Aleister Crowley barbeque. THE HEAVY METAL BOX will be available October 2 at all retail outlets and at www.rhino.com for a suggested price of $64.98. The set will be offered in limited edition packing that resembles an amplifier. In a nod to Spinal Tap - whose song "Big Bottom" is included in the set - the faux-amp box features an authentic, turn-able Marshall knob allowing you to literally turn it up to 11.
Arranged chronologically, the compilation gathers 70 choice selections from various record labels tracing the evolution of metal during its first golden age between 1968 and 1991. THE HEAVY METAL BOX presents more than five hours of blistering fury guaranteed to send devil horn salutes in the air.
The genre's progenitors get their due with the supreme heaviness of Iron Butterfly's "In-A-Gadda-Da-Vida" and the hoodlum metal mania of Blue Cheer's cover of "Summertime Blues." "From that point on," renowned metal journalist Mick Wall writes in the boxed set's meticulous liner notes, "the floodgates were thrown wide open as a whole slew of next-generation rock bands, disenchanted by the empty promises of the so-called love generation, arrived like drunken, rabble-rousing gate-crashers at the party, intent on ripping up the rulebook, throwing love out the window - along with all the flowers - and replacing them with a distinctly unsettling ambience all their own. From here on in, rock music would no longer be a dance. It would be an arena to do battle in."
Along with Wall's detailed history of metal, the boxed set's exhaustive liner notes also include rare photos, a track-by-track commentary, Ronnie James Dio discussing metal's infamous mano cornuta salute (aka "The Horns"), Lita Ford reflecting on her role as the "first lady of metal," multiple artist tributes, and more.
THE HEAVY METAL BOX invokes some of metal''s biggest names with Alice Cooper's "Billion Dollar Babies"; Black Sabbath's "Neon Knights"; "Highway Star" by "the loudest group in the world," Deep Purple; Iron Maiden's "The Phantom Of The Opera" with singer Paul Di'Anno and "The Number Of The Beast" with singer Bruce Dickinson; Judas Priest's "The Ripper" and "You've Got Another Thing Comin""; Metallica's "Whiplash" and uber- doom-ballad "One"; Megadeth's searing political statement "Peace Sells"; Slayer's soul crushing "South of Heaven"; and Pantera's marriage of metal and hardcore on "Cowboys From Hell." The boxed set also includes songs by Ted Nugent, Kiss, W.A.S.P., Diamond Head, Venom, Living Colour, and a pair of tracks featuring leather-lunged Lemmy Kilmister who appears on Hawkwind's "Lost Johnny" and Motorhead's "Ace of Spades."
Metal is an immense genre and this collection spotlights its many offshoots including progressive metal (Rush's "Working Man," Mercyful Fate's "Black Funeral," Queensryche's "Queen Of The Reich," and Prong's "Beg To Differ"); black metal (Angel Witch's "White Witch" and Venom's "Witching Hour"); thrash/speed metal (Testament's "Trial By Fire," Raven's "Star War," Overkill's "Wrecking Crew," and Anthrax's "Caught In A Mosh"); boogie metal (Rose Tattoo's "Nice Boys"); Christian metal (Stryper's "To Hell With The Devil"); party metal (Fastway's "Say What You Will" and Krokus' "Midnite Maniac"); and death metal (Sepultura's "Dead Embryonic Cells").
While America and Britain were metal's primary foundries, they were certainly not the only ones. Australia birthed the fast 'n' nasty Rose Tattoo while Germany proffered newly minted, power-first outfits like the Michael Schenker Group and Accept. From the deceptively sleepy Switzerland came the manic Krokus while Sweden yielded a genuine guitar god in the Ritchie Blackmore-obsessed Yngwie J. Malmsteen. Even Japan came up with their own version of the phenomenon in the aptly-named Loudness.
In the '80s, MTV helped bring the hair metal movement into homes across the nation making bands such as Dokken, Ratt, Hanoi Rocks, Skid Row, Whitesnake, Cinderella, Poison, Twisted Sister, and Quiet Riot famous hitmakers. "By the end of the '80s," Wall writes, "heavy metal had come full circle to the point where it was simultaneously riven by so many new categories and subgenres that you needed an encyclopedia to make sense of it all - and yet it was more universally popular than ever before."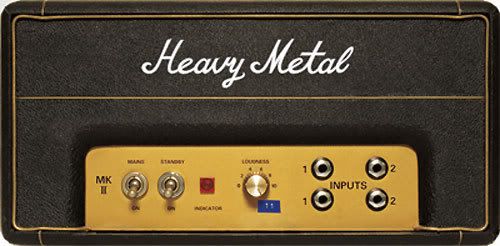 from :
metallica.com